Saskatchewan Hockey Community Mourns the Passing of Mick McGeough
---
---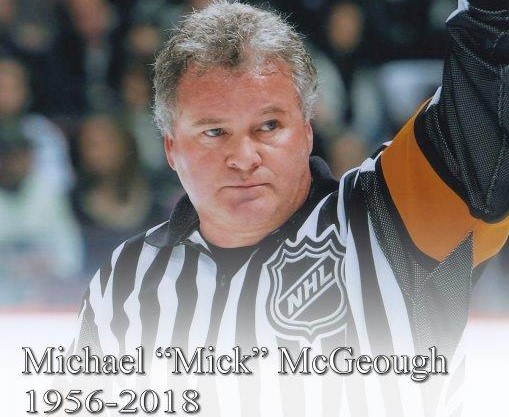 ---
The Saskatchewan hockey community deeply saddened to learn that former National Hockey League referee and Saskatchewan Hockey Hall of Fame inductee, Michael "Mick" McGeough, has passed away. McGeough, a Regina native succumbed to health complications on Friday, November 23rd with family and friends by his side. McGeough was a well-respected official in many levels of hockey. Getting his start at linesmen in the Saskatchewan Junior Hockey League (SJHL), McGeough eventually got the call to the Western Hockey League (WHL) as a referee. He moved up the ranks with the WHL culminating in officiating the 1986 Memorial Cup final. It was in 1987 that McGeough would get the call to the National Hockey League (NHL). After calling it a career in 2008, McGeough had officiated in 1,063 NHL games, refereed the 2001 NHL All-Star Game and had the privilege of reffing the 2006 Stanley Cup Finals.
McGeough was inducted into the SJHL Hall of Fame in 2010, the Sports Officials Canada Hall of Fame in 2012 and the Saskatchewan Hockey Hall of Fame in 2013.
Gone but not forgotten, McGeough will be sorely missed.
Achievements of Success
Officiated the 2001 NHL All-Star game
On Feb 3, 2007, officiated his 1,000th NHL game
Officiated the 2006 Stanley Cup Finals
Inducted into the Saskatchewan Junior Hockey League's Hall of Fame, 2010
Received the Ron Foxcroft award for a Canadian Sports Official, 2012
Inducted into the Sports Officials Canada Hall of Fame, 2012
Inducted into the Saskatchewan Hockey Hall of Fame, 2013